Mia Wallace's (Uma Thurman) Black Stiletto Pumps
Question
Hi, please help! If anyone can answer my question, I would greatly appreciate it! My gf loves Mia Wallace's shoes as seen on the DVD cover of the film. You know, the black stiletto pumps? What is the make and model of these awesome shoes? Does anyone know where I can buy them or exact copies? Thank you for any help whatsoever!
Thanks!
-John
Potential Answer (also see comments)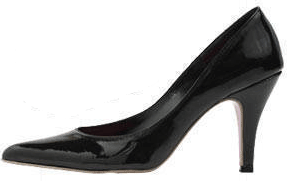 What model are these? Where can John buy these? Anyone?
Metadata